In middle school, after students have their own view to the world, we emphasize on the deep understanding of their subject and academic excellence. Meanwhile, we teach students on the practical use of technology, and cultivate their leadership.
Curriculum
The ISA Middle school develops schemes of work using standards from the UK curriculum taught in the 8 core subject groups of the MYP; Language and Literature, Language Acquisition, Mathematics, Science, Individuals and Societies, Arts, Design and Physical and Health Education. The schemes of work are framed within the MYP framework, contextualised and appropriated to the context of our school.
Students study a wide range of units of work set in various real-world contexts taught with the IB framework approach through conceptual understanding and inquiry learning.
The two main components of curriculum design are:
· UK Curriculum: Content/skills/standards
· IB Framework: Inquiry and Project Based Learning; Developing Independence and Approaches to learning (ATL) skills
Language Programme
During the ISA Middle Years, we focus on language learning with extensive opportunities for students. English is the main teaching language of the ISA Middle school curriculum. We also provide English Language and Literature Course and English as an Additional Language (EAL) Program to help students achieve very high level of English, which is the equal to that of native English speakers of the same grade elsewhere. All students have 4 lessons of Chinese lessons per week. Students with a different "Mother Tongue" also have 4 hours of language tuition. Mother Tongue languages offered include Arabic, Hebrew, Italian, Japanese, Korean and Spanish. Students with a Chinese heritage can choose to do an extra 4 hours of Chinese or extra English (EAL) lessons.
Language and Literature——English
MYP language and literature courses are taught for four lessons per week. The course includes a balanced study of genres and literary texts, formal and informal writing instruction. The course also includes a study of media literacy to ensure that students are prepared for the future. Students' interactions with texts generate moral, social, economic, political, cultural and environmental insights. Through their studies, students learn how to form opinions, make decisions, and engage in ethical reasoning.
We focus the study of texts as an active engagement with language and culture and, by extension, to how we see and understand the world in which we live. A key aim of the language and literature course is to encourage students to question the meaning generated by language and texts, which, it can be argued, is rarely straightforward and unambiguous. Helping students to focus closely on the language of the texts they study and to become aware of the role of each text's wider context in shaping its meaning is central to the course.
This course aims to develop students' skills of textual analysis and the understanding that texts can be seen as autonomous yet simultaneously related to a variety of cultures and beliefs. The course is designed to help students develop a range of transferable skills. An understanding of the ways in which formal elements are used to create meaning in a text is combined with an exploration of how that meaning is affected by reading practices and preconceptions.
Chinese Language
By developing conceptual understanding in a global context, ISA's Middle Years Chinese language program builds a continuous and in-depth exploration of Chinese language and literature/language acquisition. Teachers and students formulate description of inquiry and use inquiry to explore Chinese language. Through inquiry, students develop skills in interdisciplinary and single-disciplinary approaches. Middle School students are divided into Class A and Class B. Class A is Language and Literature Class. Students learn how to analyse, comment and create non-literacy and literacy. We require students to have a more in-depth understanding of Chinese social reality, history and culture. Class B is Language Acquisition Class. Students focus on the understanding, exchanging and application of language. They mainly use language as a tool for study and communication. We evaluate Class B students in their understanding of oral and visual materials, written and visual materials, communicating and using language through oral, written or visual materials.
KS3 Science
In years 6 – 8, students study a three-year Science program, based on the National Curriculum of England and Wales. The course is designed to follow on from their scientific studies in primary school, building on knowledge and skills developed and ensuring a smooth transition in their learning. It will continue this development and prepare the students with the tools and confidence required for the challenges that the MYP and KS4 iGCSE courses will present. Years 6-8 will stimulate students' curiosity about the physical and natural world around them, as well as developing the key scientific skills they need now and in the future. Students are faced with challenging activities which encourage engagement and allow teachers to stretch and support students individually. Students will be able to sit both the MYP Assessments and iGCSE Science examinations in year 10.
Year 6
The first term of year 6 is spent building a strong foundation in key scientific skills and knowledge. Students follow an introductory unit which includes the development of essential practical skills required for scientific inquiry. They then rotate through 6 units of study, outlining key aspect of Physical, Chemical and Biological sciences.
Every opportunity is given for development of practical and ATL skills. The course is very hands-on, and students are encouraged to learn and develop though their own practical work together with independent and group work activities, with a focus on social constructivist learning approaches and collaboration. Progress in practical work and skills is also assessed during class tasks, homework and end-of-topic tests.
Year 7
In year 7, students begin to develop a deeper understanding of the scientific world. They study the interaction of matter and the role and application of forces in the real world, as well as furthering their understanding of living organisms over six different units. Emphasis is placed on developing scientific thinking, and on translating ideas into a written format. The acquisition of knowledge through first-hand experience remains a major theme. As in year 6, there is a large emphasis on developing practical and mathematical skills which are assessed regularly through authenitic tasks that challenge students to think and act creatively and critically.
Year 8
In year 8, students further their understanding in the Biological, Chemical and Physical world of science and begin to work more independently to prepare them throughout their middle school studies. They start to think scientifically, formulating hypotheses and writing scientific conclusions. Students can plan for experimental work and work safely in a laboratory and emphasis is on practicing these skills. Students begin to work more independently and develop hypotheses themselves. Progress in practical work and skills is also assessed during class tasks, homework and end-of-topic tests and authentic formative and summative assessments.
Preparation for Key Stage 4
As students move through the first three years of middle school, they develop skills that will be essential for success at years 9 and 10. These include the knowledge and use of key words, understanding how to analyse and use data and the application of prior knowledge to unfamiliar situations. Development of all these skills are embedded into the course outcomes and standards to ensure students are prepared for critical and deep conceptual understanding.
Mathematics
The study of mathematics is a fundamental part of a balanced education. It promotes a powerful universal language, analytical reasoning and problem-solving skills that contribute to the development of logical, abstract and critical thinking.
As today's information and technology - based society is heavily dependent on skilled persons who can think critically, studying of mathematics, becomes more than simply learning formulae or rules. Students should not have the impression that all the answers to mathematics can be found in a book but, rather, that they can be active participants in the search for concepts and relationships. In that light, mathematics becomes a subject that is alive with the thrill of exploration and the rewards of discovery.
At ISA, we aim to deliver UK national mathematics curriculum through the MYP framework of the IB. The main aims of this approach are to encourage students enjoy mathematics and develop curiosity about mathematical concepts by conducting investigations on real life situations. Critical thinking and communication are the other important aspects of mathematics and the students are encouraged to think critically and communicate confidently in a variety of contexts. These are achieved through four specific objectives in mathematics. These are:
· Knowing and understanding
· Investigating patterns
· Communicating
· Applying mathematics in real-life contexts
In summary, along with skills based training students are encouraged to work on real life investigations, appreciate mathematics and become confident and lifelong learners.
Individuals and Societies
At ISA international school of Guangzhou, students partake in up to 4 lessons of Individuals and Societies study each week. The subject encourages learners to respect and understand the world around them and equips them with the necessary skills to inquire into historical, contemporary, geographical, political, social, economic, religious, technological and cultural factors that have an impact on individuals, societies and environments. At ISA we place a strong emphasis on inquiry and investigation to test hypotheses and to interpret primary and secondary material. At the heart of our programme is a focus on real-world examples delivered in an entertaining and creative manner which makes the course relevant, interesting and accessible for all students.
We focus our assessment of students in four key areas of learning, these are:
· Knowledge and understanding -Students develop factual and conceptual knowledge about individuals and societies.
· Investigating – Students develop systematic research skills and processes associated with disciplines in the humanities and social sciences. Students develop successful strategies for investigating independently and in collaboration with others.
· Communicating - Students develop skills to organize, document and communicate their learning using a variety of media and presentation formats.
· Thinking critically - Students use critical thinking skills to develop and apply their understanding of individuals and societies and the process of investigation. ISA students enjoy studying Individuals and Societies because they learn transferable skills in a creative, dynamic and inquiry driven curriculum.
Physical development
In the International Baccalaureate® (IB) Middle Years Programme (MYP), physical and health education empowers students to understand and appreciate the value of being physically active and to develop the motivation for making healthy life choices.
At ISA, middle school students have two hours of physical education per week and one hour of health instruction. Most of our content will come from the UK Curriculum and be delivered within the framework of IB MYP philosophy and themes.
Students will participate in units that fit under the following categories:
· Physical and Health-Related Knowledge: Core themes will be overall health and wellbeing, relationships, living in the wider world, economic wellbeing, careers and the world of work
· Aesthetic Movement: such as gymnastics, aerobics, martial arts, jump rope, yoga or capoeira
· Team Sports: such as football, basketball, handball, volleyball and baseball
· Individual Sports: such as athletics, badminton, table tennis, etc.
· International Sports & Activities: special games and sports related to specific countries that may not have been seen or experienced by our students such as invasion games.
The Aims of MYP physical and health education are to encourage and enable students to: use inquiry to explore physical and health education concepts
· participate effectively in a variety of settings
· understand the value of physical activity
· achieve and maintain a healthy lifestyle
· collaborate and communicate effectively
· build positive relationships and demonstrate social responsibility
· reflect on their learning experiences.
Art development
ISA offers weekly two hours' specialist Art classes and design classes respectively from Years 6 – 9.
In the Visual Arts students are taught both two dimensional and three dimensional forms within a variety of mediums such as Drawing, Painting, Printmaking and Sculpture. They learn both technical and material practice in conjunction with the study of Artists and Artworks.
In Design, the areas of study are the Built Environments, Products and Information and Communications. These provide the situation or context for the design projects such as from Graphic Design, Interior Design, Textiles and Architecture. For each Design project, students develop a design folio as a document that provides ongoing evidence of the application of a design process and the specific technologies used in this process.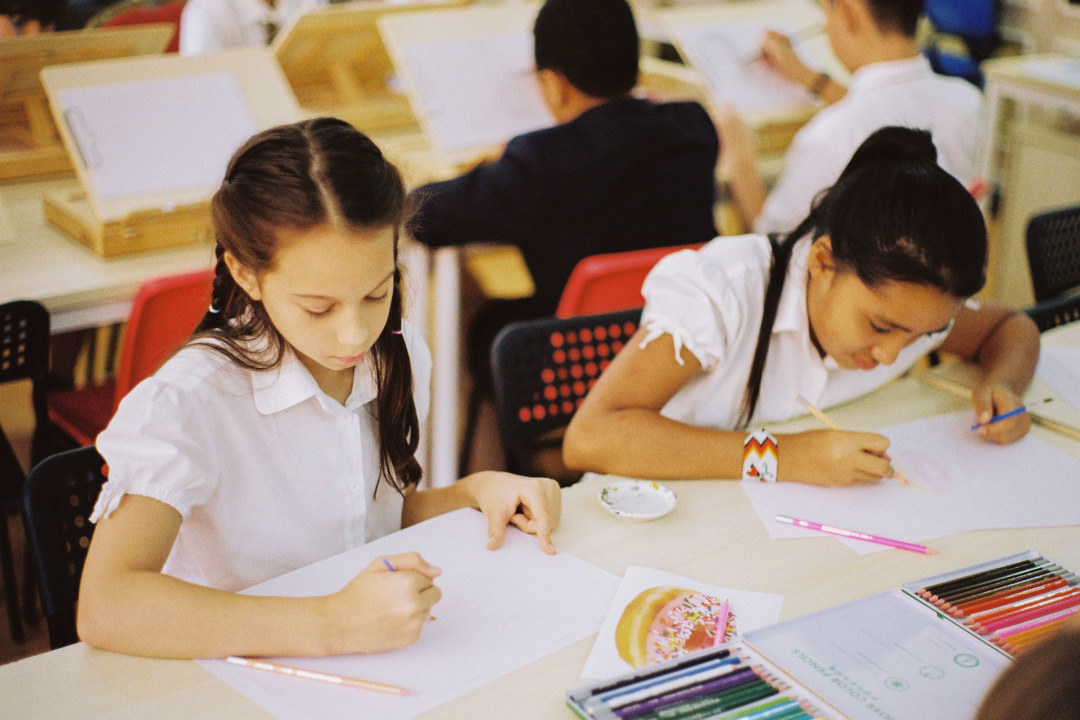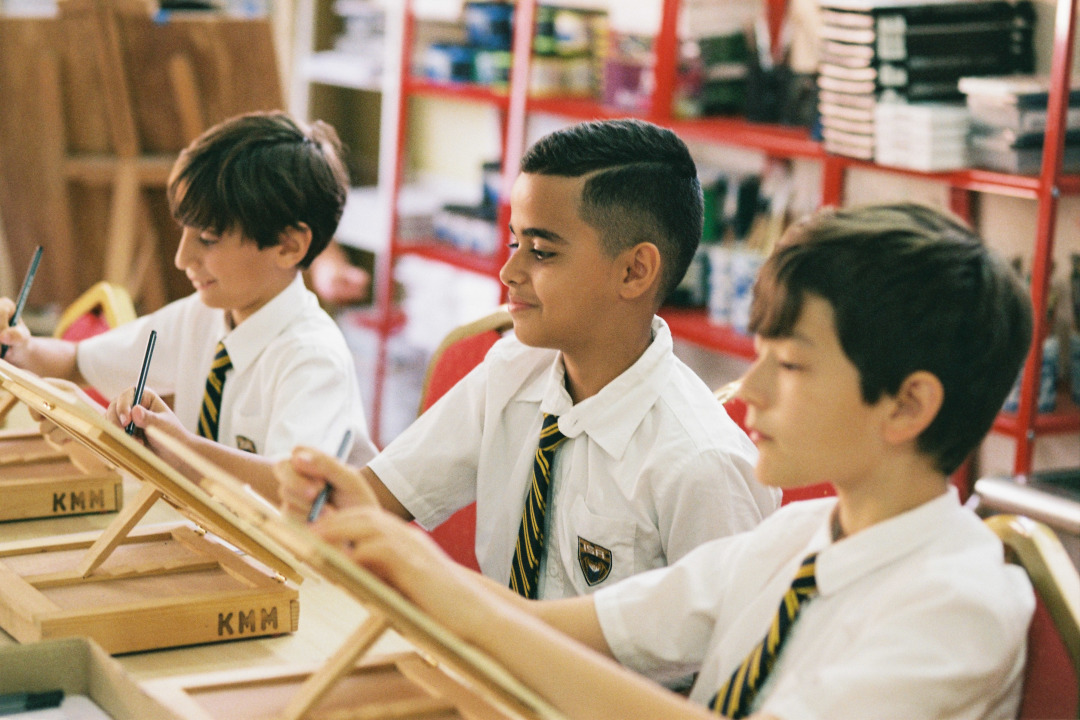 Music development
Music education greatly enhances students' understanding and achievement in non-musical subjects. It will give students a way to connect with other people. We firmly believe that music gives students the opportunity to develop, not only subject specific skills, but time management, critical and creative thinking, and affective skills while developing a strong sense of self-discipline. Music allows for a holistic development of students' intellectual, social and emotional well-being through the relationships they build, the experiences they share with each other and the team work and cooperation that is essential to develop in both small and large ensemble playing. A focus on the individual, however enhances their self-confidence, resilience and adaptability.
At ISA, musical education begins in Early Years and continues every year through Middle School, allowing students to develop an appreciation and love for music whilst honing their musical skills. In the Middle School, from years 6 – 8 music is offered as a discipline within the Arts subject group. Ensuring a well-balanced and rounded curriculum, students experience Visual Arts and Music in years 6 – 8 and are given an opportunity to elect music in the later years of the program as a focused study. Throughout the program students are engaged in tasks that develop their analytical and higher order thinking skills.
Students develop musical skills and literacy through singing, movement and instrumental playing. A Kodály and Orff-centred approach/methodology has been developed for middle school to engage children in active music making, with their voices and musical instruments. Their performance skills are further developed through opportunities to perform for formative and summative tasks while given opportunities at school events and assemblies for public performance practice. Students develop their composition skills and aural skills through a broad range of topics from world music, through popular music and the Western Tonal Tradition.
Students are given every opportunity to enhance their ensemble skills through extracurricular activities during clubs times, in choir and through an annual musical performance. Involvement in music encourages them to understand the music in different contexts and cultural histories, thus supporting the development of students with an inquiring and empathetic world view.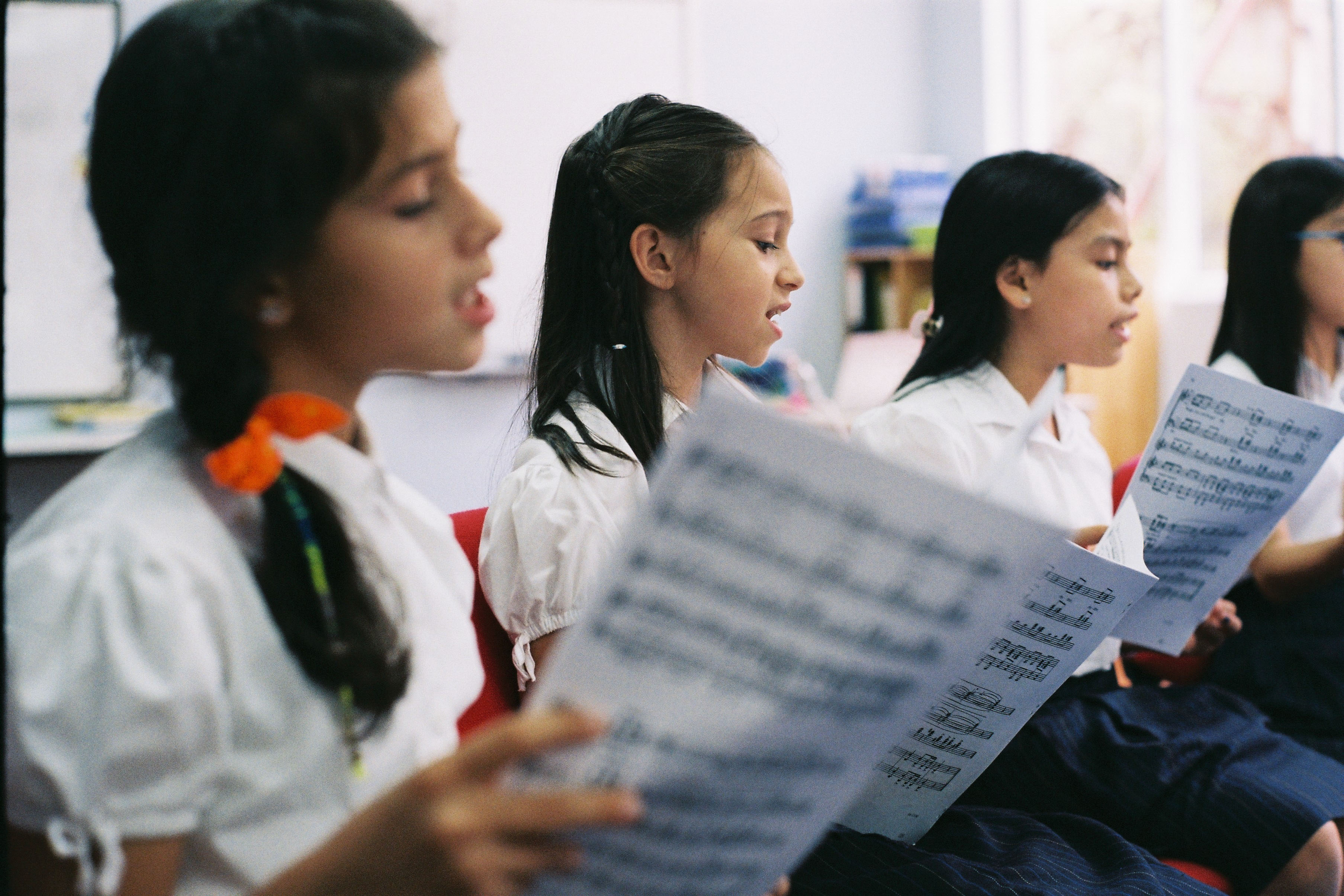 Outdoor activity
ISA provides rich extracurricular courses to students and offers outdoor educational experiences including the annual trip, trips to the Guangzhou Museum and Library, trips to sporting events and musical performances. We also organize field trip in Yangshou, Sanya, Dali or somewhere else every year.
Library
Library is very important resource at ISA. There are over 9000 books in the library. Whilst most are in English, others are in Chinese, Italian, French, Spanish, Korean and Arabic and Japanese. The number of books is scheduled to reach 15000. There are also 2000 books distributed to the classrooms for different purposes. Each class has one library lesson per week and the library is available for the students during lunch breaks or other free time. Students are encouraged to borrow books on a daily basis. Noted authors visit ISA to directly engage with students and also encourage a love for literature.
Faculty
In middle year program (MYP), we set math, science, English, Chinese, humanity, art, PE and music teachers. As the curriculum is subject-based, each teacher teaches students ranging from Year 6 to Year 9 with different level of knowledge. The teachers are led by an MYP coordinator who will ensure their teaching quality.
Homework
Middle school students will receive homework in the key learning areas of Literacy (English and Chinese), Mathematics, Individuals and Societies (Integrated Humanities) and science. The homework will be; an extension of what is taught in class; revision for tests and quizzes; "flipped classroom" approach where students are studying key concepts for the following lesson; project based work for summative assessments; reading and writing practice; reading for leisure in English, Elective Languages and Chinese; exercises on online resources including Mathematics; general revision of work studied in class; rewriting work done in class when necessary to reinforce learning.
For More Information:
ISA International School of Guangzhou blends the best of IB+UK Curriculum and Chinese + Mother Tongue Language Programs, creating a model of high quality educational and cultural fusion in China. Visitors are always welcome. We are located inside the Redtory Art and Design complex beside the Pearl River, very near Zhujiang New Town CBD.
Address: Block C2-2 Redtory, Siheng Road No.128, Yuan Village, Tianhe District, Guangzhou 510655
E-mail: admission@isaschool.org
Phone number: 020-88900909